August 18 - 24, 2019
The Liturgical Arts Academy May 2019
--VIDEO FROM 2018 TLAA--
Video production by Herman A. Middleton at www.ProtectingVeil.com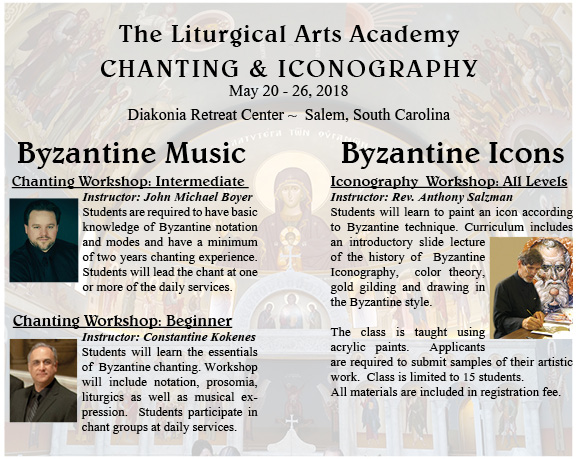 The Liturgical Arts Academy is a one week intensive program to teach the skills of Byzantine Chanting and Iconography in an atmosphere of prayer, study, discussion and communion.
Dates: Sunday May 20 - Saturday May 26, 2018
Location: Diakonia Retreat Center
Cost: $500 per student
Includes: 7 Days and 6 Nights in Single Occupancy Room in Lodge , all meals for 6 nts and 7 days, workshop instruction and materials for 5 days (Mon-Fri), use of facilities and amenities at the Diakonia Retreat Center
Instructors:
John Michael Boyer, Constantine Kokenes, Rev. Anthony Salzman and tbd
Vision of TLAA
The Liturgical Arts in the Orthodox Church are the product of two thousand years of liturgical worship in unbroken continuity; they serve to remove the worshipper from the earthly plain and elevate him/ her to the heavenly realm. Because we see a loss of the Church's traditional worship in America, we hope to implement a project that will revitalize the traditional liturgical arts in order to restore the proper power to, and transformative nature of, our worship. Each generation must acquire the skills and knowledge of the tradition and then develop the craft in order to attain the heights of expression in these sacred arts. The Liturgical Arts Academy (TLAA) aspires to teach leaders and church artists how to worship God, the Father, the Son and the Holy Spirit in the form which has produced hundreds and thousands of saints, martyrs, confessors and witnesses.
Registration Fees & Deadlines:
| | | |
| --- | --- | --- |
| | Fee | Due Date |
| Registration: | $250 Deposit | April 1 |
| Balance in Full: | | April 20 |
PLEASE SEE TLAA TERMS & CONDITIONS FOR LODGING OPTIONS & RATES
Please complete the online registration and then return to this page to send a payments. To submit your deposit, a payment or balance in full, select the amount from the dropdown box and click the "Buy Now" button.

If you have any difficulty please contact us at

info@theliturgicalarts.org or 706-310-1306
PRINTABLE FORMS:
Cancellation Policy: Cancel before April 1: refund of all but $50 will be issued. Cancel after April 1: no refunds will be issued. However, in the event your spot can be filled by another student, you will receive a refund of all but $100.
Class Sizes: Iconography Workshop limited to maximum 15 students per instructor; Students are required 3 samples of their artwork or iconography work. Intermediate Chanting Workshop limited to 10 students. Beginner Chanting Workshop no limit. Students will be placed in appropriate level workshop.
Cabin Upgrades: SOLD OUT 4/1/2018 A limited number of private cabins will be available on a first come first serve basis for an additional per person cost as listed in chart. Please indicate this preference at time of registration and you will be notified of availability.
SGL OCCUPANCY StudentOr Accompanying Non-Student
DBL OCCUPANCY StudentOr Accompanying Non-Student

Lodge

$500 per person

$475 per person

Private Cabin

SOLD OUT 4/1/2018

$650 per person

$575 per person
Payment Options: Online with major credit card or mail in checks payable to: "St Philothea TLAA" Mail to: TLAA, 1169 Old Farm Road, Watkinsville GA 30677
This program is made possible through A Vital Worship Grant from The Calvin Institute of Christian Worship, Grand Rapids, Michagan with funds provided by the Lilly Endowment
The Diakonia Retreat Center is owned and operated by The Greek Orthodox Metropolis of Atlanta
For questions contact: Presvytera Christine Salzman
info@theliturgicalarts.org or 706-310-1306
"Students will come away with a finished icon on a museum quality panel and a new vision for the possibilities of artistic expression. This is a visual language that will give you the practical skills as well as a theoretical foundation for a rewarding and fulfilling artistic vocation." Fr. Anthony Salzman
PHOTOS FROM 2016 ICONOGRAPHY WORKSHOP & RETREAT AT THE DIAKONIA CENTER
Iconography Lectures & Seminars (for churches, schools and other organizations)

For over twenty-five years Fr. Anthony has been writing icons and teaching on the development, history, theology and use of icons in the Orthodox Church.
Extensive digital presentations include photographs of some of the most treasured churches in places such as Greece, Turkey, Cyprus, Egypt, Jerusalem, Yugoslavia and Russia and are presented in an interesting and comparative manner with other art traditions. You may choose the topic or topics that you would like emphasized. Father's mannerism is engaging and inspiring with an artistic flare.
Some of the areas of discussion are as follows:
the theological dimension of iconography

the liturgical aspect

the history and development

the iconoclast controversy

planning an iconographic program for a church

the technical aspects of painting icons

or a broad introduction to Iconography that touches on all aspects (minimum 1 hour)
Availability is limited. Contact us for dates and stipend and travel expense charges.
Iconography Workshop & Retreats-Photos
Below are photos from past workshops at the Diakonia Center in Salem, South Carolina